Tag Archives:
fluid-structure interaction
Research
22 November 2015 – 0 h 00 min
Our last poster in collaboration with Francisco Huera-Huarte from Universitat Rovira i Virgili presented at the APS Gallery of Fluid Motion in the DFD 2015 Meeting.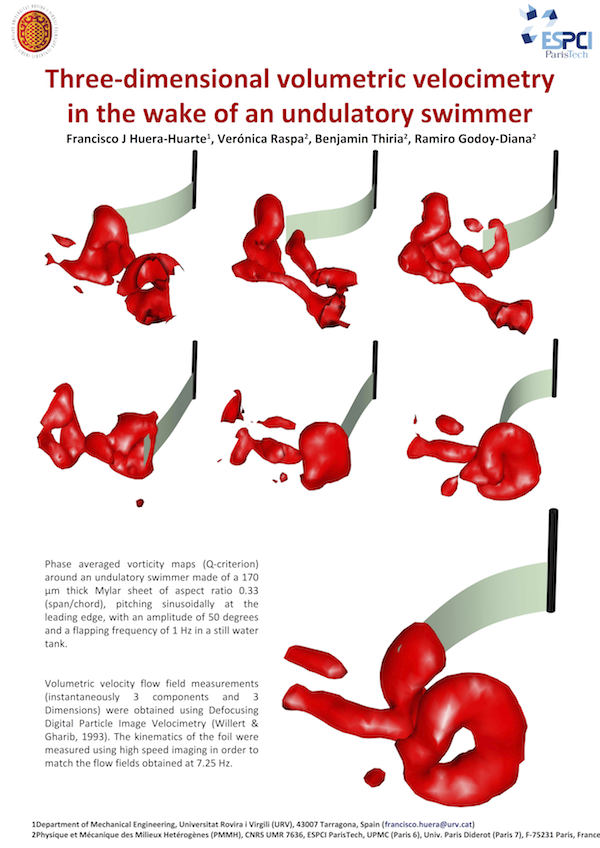 Publications
Research
10 August 2015 – 0 h 00 min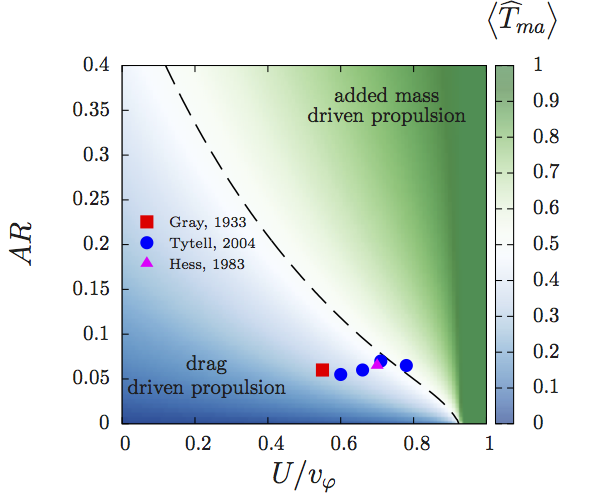 Resistive thrust production can be as crucial as added mass mechanisms for inertial undulatory swimmers
M. Piñeirua, R. Godoy-Diana & B. Thiria
Physical Review E 92 021001(R) (2015).
[doi:10.1103/PhysRevE.92.021001]

We address here a crucial point regarding the description of moderate to high Reynolds numbers aquatic swimmers. For decades, swimming animals have been classified in two different families of propulsive mechanisms based on the Reynolds number: the resistive swimmers, using local friction to produce the necessary thrust force for locomotion at low Reynolds number, and the reactive swimmers, lying in the high Reynolds range, and using added mass acceleration (described by perfect fluid theory). read more »
Publications
Research
6 March 2015 – 0 h 00 min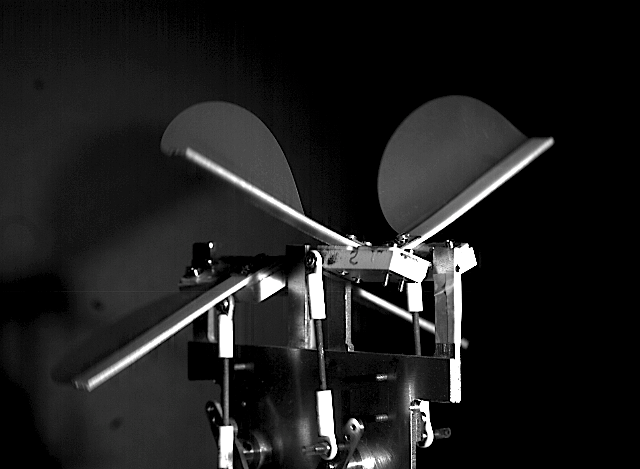 Four-winged flapping flyer in forward flight
R. Godoy-Diana, P. Jain, M. Centeno, A. Weinreb & B. Thiria
In Klapp et al. (eds.), Selected Topics of Computational and Experimental Fluid Mechanics, Environmental Science and Engineering, pp. 147-158. Springer (2015).
[doi:10.1007/978-3-319-11487-3_8]
We study experimentally a four-winged flapping flyer with chord-wise flexible wings in a self-propelled setup. For a given physical configuration of the flyer (i.e. fixed distance between the forewing and hindwing pairs and fixed wing flexibility), we explore the kinematic parameter space constituted by the flapping frequency and the forewing-hindwing phase lag. read more »
Publications
Research
5 January 2015 – 0 h 00 min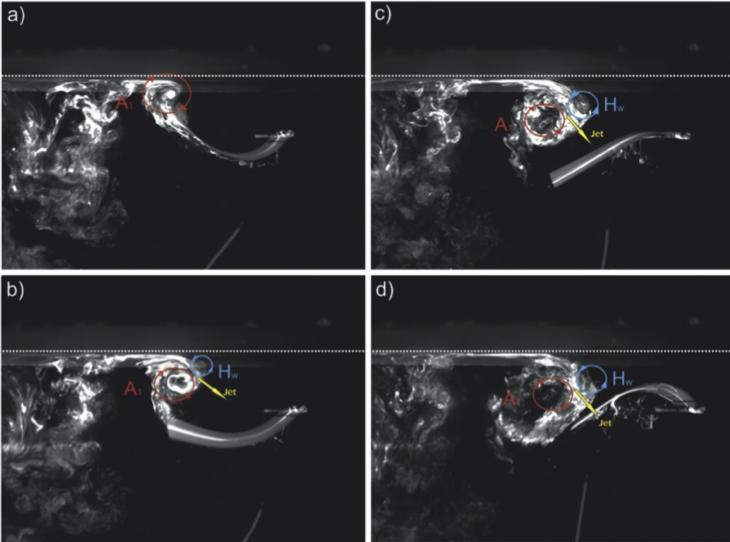 Large-amplitude undulatory swimming near a wall
R. Fernández-Prast, V. Raspa, B. Thiria, F. Huera-Huarte & R. Godoy-Diana. Bioinspiration and Biomimetics 10 016003 (2015).
doi:10.1088/1748-3190/10/1/016003
We study experimentally the propulsive dynamics of flexible undulating foils in a self-propelled swimming configuration near a wall. Measurements of swimming speed and propulsive force are performed, together with full recordings of the elastic wave kinematics and particle image velocimetry. read more »
Research
16 December 2014 – 14 h 00 min
Bio-inspired swimming and flying – Vortex dynamics and fluid/structure interaction
Ramiro Godoy-Diana
Habilitation à diriger des recherches, Université Pierre et Marie Curie, 2014.
[hal.archives-ouvertes.fr]
The present document, prepared in view of obtaining the Habilitation à diriger des recherches, reviews my main research subject at PMMH since 2006, which concerns the study of swimming and flying inspired by nature. Canonical examples of flapping flight and undulatory swimming are explored using simplified experimental models as a starting point. This allows for the discussion of some fundamental questions related to the physics of bio-inspired locomotion at "intermediate" Reynolds numbers. In particular, we address the strong fluid-structure interactions that arise in these problems, where we have focused on: simplified models of flapping foils in hydrodynamic tunnel experiments, especially in the dynamics of vorticity in the wake of an oscillating foil ; mechanical models of flapping flyers with flexible wings in a self-propelled configuration (in the spirit of the pioneer experiments of Etienne-Jules Marey), as well as novel experimental models of undulatory swimming.
read more »
Publications
Research
Video
8 February 2014 – 14 h 34 min
Publications
Research
8 February 2014 – 14 h 28 min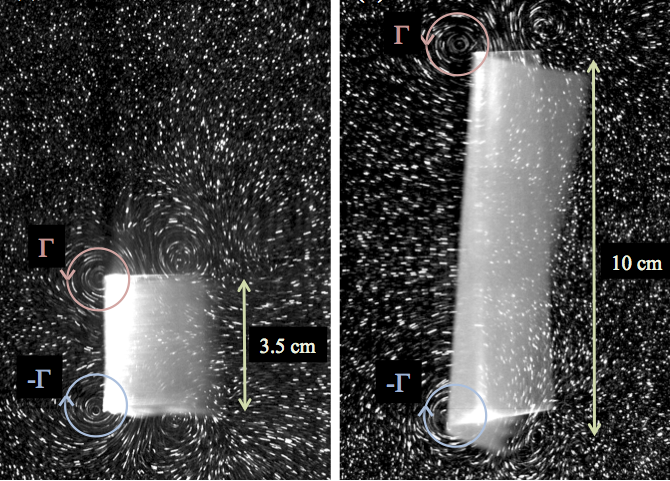 Vortex-induced drag and the role of aspect ratio in undulatory swimmers
V. Raspa, S. Ramananarivo, B. Thiria & R. Godoy-Diana. Physics of Fluids, 26 : 041701 (2014).
During cruising, the thrust produced by a self-propelled swimmer is balanced by a global drag force. For a given object shape, this drag can involve skin friction or form drag, both being well-documented mechanisms. However, for swimmers whose shape is changing in time, the question of drag is not yet clearly established. read more »
Publications
Research
8 February 2014 – 14 h 18 min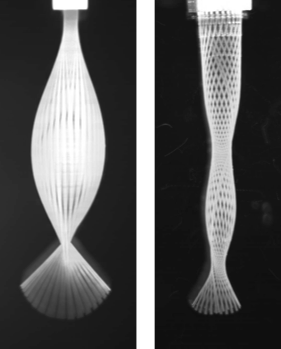 Propagating waves in bounded elastic media: an application to the efficiency of bio-inspired swimmers
S. Ramananarivo, R. Godoy-Diana & B. Thiria.
EPL, 105 : 54003 (2014).
Confined geometries usually involve reflected waves interacting together to form a spatially stationary pattern. Our recent study on the locomotion of a self-propelled elastic swimmer on a free surface [Ramananarivo et al. 2013], however, has shown that propagating wave kinematics can naturally emerge in a forced elastic rod, even with boundary conditions involving significant reflections. This particular behavior is observed only in the presence of strong damping. read more »
Publications
Research
Video
6 November 2013 – 0 h 00 min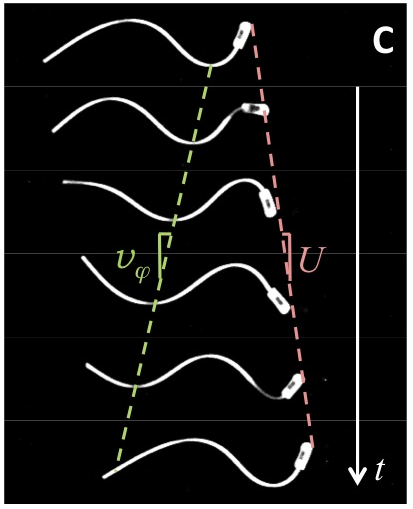 Passive elastic mechanism to mimic fish-muscles action in anguilliform swimming
S. Ramananarivo; R. Godoy-Diana & B. Thiria.
Journal of the Royal Society Interface 10 : 20130667 (2013).
Abstract: Swimmers in nature use body undulations to generate propulsive and maneuvering forces. The an- guilliform kinematics is driven by muscular actions all along the body, involving a complex temporal and spatial coordination of all the local actuations. Such swimming kinematics can be reproduced artificially, in a simpler way, by using passively the elasticity of the body. Here we present experiments on self-propelled elastic swimmers at a free surface in the inertial regime. read more »
Publications
Research
11 September 2012 – 0 h 00 min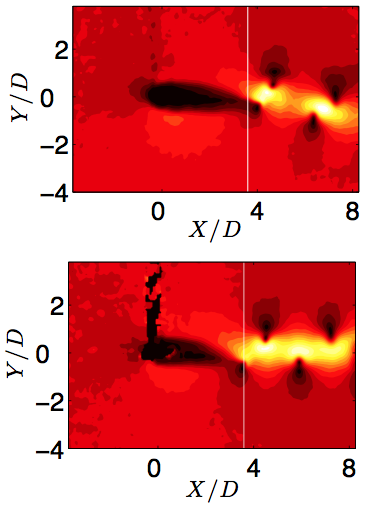 Stabilizing effect of flexibility in the wake of a flapping foil
C. Marais; B Thiria; Wesfreid, J. E. & R. Godoy-Diana.
Journal of Fluid Mechanics, 710 : 659-669 (2012).
Abstract: The wake of a flexible foil undergoing pitching oscillations in a low-speed hydrodynamic tunnel is used to examine the effect of chordwise foil flexibility in the dynamical features of flapping-based propulsion. read more »
Publications
Research
12 April 2011 – 0 h 00 min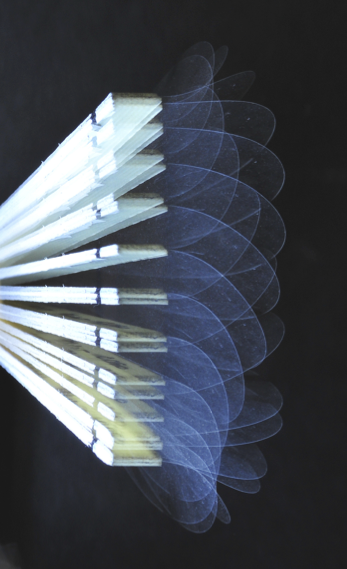 Rather than resonance, flapping wing flyers may play on aerodynamics to improve performance
S. Ramananarivo; R. Godoy-Diana & B. Thiria.
Proceedings of the National Academy of Sciences (USA), 108 (15): 5964-5969 (2011).
Abstract: Saving energy and enhancing performance are secular preoccupations shared by both nature and human beings. In animal locomotion, flapping flyers or swimmers rely on the flexibility of their wings or body to passively increase their efficiency using an appropriate cycle of storing and releasing elastic energy. Despite the convergence of many observations pointing out this feature, the underlying mechanisms explaining how the elastic nature of the wings is related to propulsive efficiency remain unclear. Here we use an experiment with a self-propelled simplified insect model allowing to show how wing compliance governs the performance of flapping flyers. read more »
Publications
Research
Video
19 July 2010 – 0 h 00 min