Mariana Tasso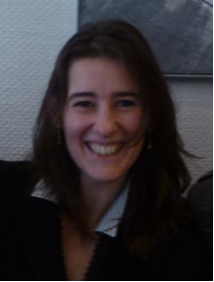 TASSO Mariana
Postdoctoral Researcher
mariana.tasso@espci.fr
Phone: (33)(0)1 40 79 44 82
Fax: (33)(0)1 40 79 47 44  
Research topic
Biofunctionalization of quantum dot nanoparticles for specific recognition and imaging of biological targets

Professional experience
2010 – 2012:   Postdoctoral Research Associate
Northeastern University – Microfluidics Lab; PI Dr. Shashi K. Murthy (Boston, USA)
2010:   Research Assistant
Lausitz University of Applied Sciences – Laboratory of Biopolymers; PI Dr. Katrin Salchert (Senftenberg, Germany)
2002 – 2005:   R&D Scientist
TENARIS Industrial Research Center – PI Dr. Hugo Ernst (Buenos Aires, Argentina)

Teaching
2001 – 2003:   Teaching Assistant in Mathematics II and Applied Chemistry
National University of Technology (Buenos Aires, Argentina)

Education
2006 – 2010:   Ph.D. Student
Leibniz Institute of Polymer Research Dresden – Max Bergmann Center of Biomaterials; PI Dr. Carsten Werner (Dresden, Germany);   Thesis title: Bioactive coatings for the control of cell adhesion
2001 – 2003:   Master in Processing Techniques of Plastic Materials
University of San Martín (Buenos Aires, Argentina);    Master thesis title: "Polyoxymethylene tubes: production and characterization" (April 2004)
1998 – 2002:   Materials Engineering
University of San Martín, Institute of Technology Jorge Sábato (Buenos Aires, Argentina);    Thesis title: "Microstereolitography for the production of ceramic and metallic parts" (PI Dr. Serge Monneret)
1995 – 1998:   Physics
Buenos Aires University, Faculty of Sciences (Buenos Aires, Argentina)
Publications
"Active enzyme nanocoatings affect settlement of Balanus amphitrite barnacle cyprids", Mariana Tasso, Sheelagh L. Conlan, Anthony S. Clare, Carsten Werner. Advanced Functional Materials 22(1), 39-47, 2012.
"Covalent immobilization of Subtilisin A onto thin films of maleic anhydride copolymers"; Mariana Tasso, Ana L. Cordeiro, Katrin Salchert, Carsten Werner. Macromolecular Bioscience 9(9), 922-929, 2009.
"Antifouling potential of Subtilisin A immobilized onto maleic anhydride copolymer thin films"; Mariana Tasso, Michala E. Pettitt, Ana L. Cordeiro, Maureen E. Callow, James A. Callow, Carsten Werner. Biofouling 25(6), 505-516, 2009.
"Immobilized enzymes – valuable tools for the indication of temperature events"; Stefanie Wetzel, Peter Allertz, Sören Koschnicke, Mariana Tasso, Katrin Salchert. Biocatalysis and Biotransformation 31(2), 100-113, 2013.