Petitjeans Philippe
PhD in Fluid mechannics, Université Pierre et Marie Curie Paris 6, Paris France


Lab. PMMH/ESPCI,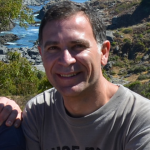 10 rue Vauquelin, Paris 75005, France

Email: phil@ pmmh.espci.fr
Research interests
My main research interests are in fluid mechanics. I have worked on several problems of instabilities and hydrodynamics turbulence. More recently, I am interested in problems of water waves, in several contexts of complex propagation (coll. A. Maurel & V. Pagneux) including weak turbulence, time reversal of water wave, metamaterials for water waves.
Keywords:
Hydrodynamic instabilities
Hydrodynamic turbulence

Water waves
Weak turbulence
Time reversal