« Soft Polymer Networks » team
The specificity of Soft Polymer Network group of SIMM laboratory is to focus on polymer science, i.e. we put in the center of our thinking the macromolecular coil: as an entropic spring, as a scaffold to functionalize and as a building block of a more complex networks.
We work on a variety of projects many of which are inspired by industrial problems but are simplified to be tractable on a more fundamental sense. We try to achieve a good balance between direct industrial collaborations, ANR funded research projects and European research projects to build a bridge between application and fundamental knowledge.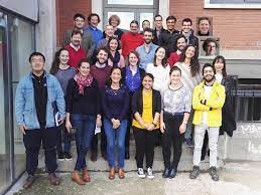 Soft Polymer Networks: from molecular design to macroscopic mechanical properties

Thanks for your contributions!
Sarah Sanjuan. PhD 2003-2006
Stimulable interfaces with polyelectrolyte and polyampholyte brushes
ED397 Doctoral School Scholarship
=> R&D engineer at PPG Industries
Elodie Siband. PhD 2006-2009
Macromolecular associations in solution and at interfaces: stimulation by pH and temperature
Co-supervision with Dominique Hourdet
ED397 Doctoral School Scholarship
=> R&D engineer at Allnex
Dusko Cakara. Post-doc 2006 – 2007
Study of the ionization of polyelectrolyte brushes by electrochemistry
With Nadège Pantoustier and Patrick Perrin
MSCA Postdoctoral Fellowship
=> Assistant Professor at University of Rijeka
https://portal.uniri.hr/Portfolio/1505
Guillaume Sudre. PhD 2007-2010
Stimuli-responsive adhesion with hydrogels
Co-supervision with Dominique Hourdet and Costantino Creton
ANR Blanc ADHGEL Funding
=> Assistant Professor at Lyon University
https://clarolineconnect.univ-lyon1.fr/icap_website/view/839
François Müller. Post-doc 2008 – 2009
Metallization of organic molds by radiolysis
With Nadège Pantoustier and Patrick Perrin
C'Nano IdF Fellowship
=> Professor at ECE Engineering School
https://theconversation.com/profiles/francois-muller-1226042
Mengxing Li. PhD 2011-2014
Stimuli-responsive hydrogel thin films
CSC China Scholarship Council
=> R&D engineer at BASF
Jennifer Macron. PhD 2011-2014
Underwater hydrogels: from macroscopic adhesion to molecular mecanisms
Co-supervision with Dominique Hourdet and Costantino Creton
ENS Cachan Scholarship
Benjamin Chollet. PhD 2012-2015
Stimulable grafted hydrogels for microfluidic actuators
ANR JCJC GelThinFilm Funding
Loïc D'Eramo. PhD 2013-2016
Integration and structuration of thermosensitive hydrogel thin films for biotechnologies
Co-supervision with Patrick Tabeling (MMN-IPGG)
ED391 Doctoral School Scholarship
=> Sales engineer at Darwin Microfluidics
Ekkachai Martwong. PhD 2014-2017
Development of thermo-responsive hydrogel films
Fellowship from Ministry of Science and Technology of Thailand
=> Assistant Professor at Rajamangala University of Technology Suvarnabhumi
Jessica Delavoipière. PhD 2015-2018
Transport in hydrogel thin films: swelling, friction and rheology
Co-supervision with Emilie Verneuil and Antoine Chateauminois
Saint-Gobain Recherche CIFRE Funding
=> R&D engineer at Saint-Gobain Recherche
Francisco Cedano Serrano. PhD 2016-2019
Adhesion of ionic hydrogels
Co-supervision with Costantino Creton and Dominique Hourdet
European ITN BioSmart Fellowship
=> R&D engineer at Saint-Gobain Recherche
Hubert Geisler. PhD 2016-2019
Hydrogel microfluidic actuators for biology
Co-supervision with Patrick Tabeling (MMN-IPGG)
IPGG Funding
=> Co-founder and engineer at Minos Biosciences startup
Guillaume Votte. PhD 2017-2020
Photonic crystals with thermo-responsive hydrogels
Co-supervision with Christian Fretigny
ED397 Doctoral School Scholarship
=> R&D engineer at L'Oréal
Zuxiang Xu. PhD 2018-2022
Underwater adhesion between biopolymer model surfaces and hydrogels
Co-supervision with Costantino Creton and Dominique Hourdet
CSC China Scholarship Council
=> R&D engineer at Huawei
Anusree Augustine. PhD 2019-2022
Swelling induced debonding of thin hydrogel films grafted on silicon substrate: the role of interface physical- chemistry
Co-supervision with Emilie Verneuil and Antoine Chateauminois
UptoParis Cofund MSCA Fellowship
Lucile Barbier. PhD 2019-2022
Relation of structure-properties of thermo-responsive injectable hydrogels
Co-supervision with Dominique Hourdet
ED397 Doctoral School Scholarship
Léa Milenkovic. PhD 2021-2024
UCST hydrogel micro-compartments for microfluidic biotechnologies
Co-supervision with Nadège Pantoustier
ED397 Doctoral School Scholarship
Gabriel Mello Santos. PhD 2021-2024
Propriétés d'adhésion des polymères à terminaison silane
Co-supervision with Matteo Ciccotti and Costantino Creton
Saint-Gobain Recherche CIFRE Funding
Perrine Pipart. PhD 2021-2024
Development of injectable hydrogels for cryoprotection and controlled release of animal seeds in artificial insemination
Co-supervision with Dominique Hourdet
IMV Technologies CIFRE Funding
Jie Sun. PhD 2021-2024
New electrochemical devices based on agricultural waste for the instantaneous and highly sensitive detection of emerging pollutants
Co-supervison with Cyrine Slim, Sophie Griveau and Fethi Bedoui (Chimie ParisTech PSL)
CSC China Scholarship Council
Thi Phuong Thu Nguyen. Post-doc 2022– 2024
Synthesis of monomers and hydrogels with UCST properties
With Nadège Pantoustier
ANR SNAP-Seq Funding
Clément Freymond. Post-doc 2022– 2023
Enzymatic recycling of plastics
With Costantino Creton and Ludwik Leibler (Gulliver)
Protein Evolution Inc. (PEI) Funding
Hernan Garate. Post-doc 2022– 2023
Enzymatic recycling of plastics
With Costantino Creton and Ludwik Leibler (Gulliver)
Protein Evolution Inc. (PEI) Funding
Louise Breloÿ. Post-doc 2022– 2023
Enzymatic recycling of plastics
With Costantino Creton and Ludwik Leibler (Gulliver)
Protein Evolution Inc. (PEI) Funding
Pongsakorn Nuchanong. PhD 2022-2025
Photonic crystals with responsive hydrogels
Fellowship from Ministry of Science and Technology of Thailand