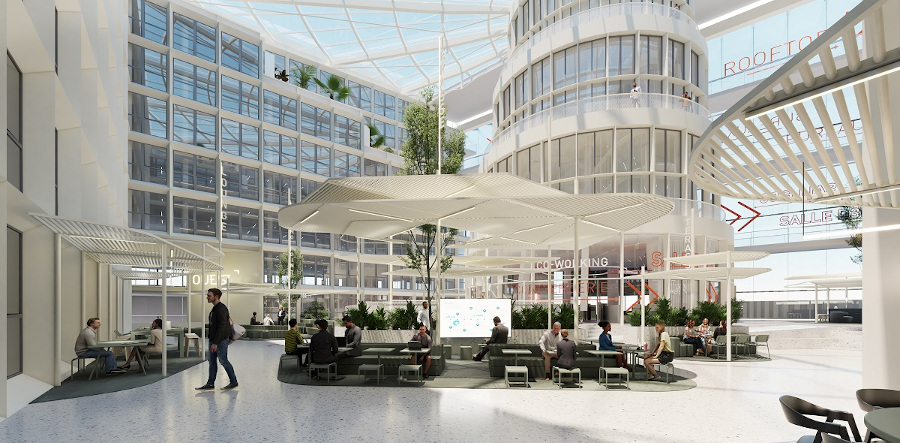 Inauguration of PariSanté Campus
One year after the announcement of French President Emmanuel Macron, PariSanté Campus has been inaugurated on December 14th 2021 by the Prime Minister, the Minister for Health, the Minister of Research, Innovation and Higher Education and the Minister of Industry.
PariSanté Campus is a project launched by the French government to create a hub for education, research, and innovation activities in the field of digital health. Founded by five public institutions (Inserm, PSL University, Inria, Agence du Numérique en Santé, Health Data Hub), PariSanté Campus will host four research institutes – including Physics for Medicine Paris – start-ups and larger companies. Prior to the definitive implantation in the former military hospital Val-de-Grâce, expected in 2028, PariSanté Campus has settled in a 14 000-m² building located in Issy-les-Moulineaux.
Physics for Medicine Paris will join the campus in 2022. "We anticipate a number of possible interactions between our research areas (monitoring and smart sensors, medical imaging, non-invasive therapy, neuroimaging) and those of the other research institutes, including the expertise in artificial intelligence of PR[AI]RIE, the fundamental research in quantitative biology conducted by Q-Bio, as well as the ethical questions addressed by the Institut Santé Numérique en Société.", says Mickael Tanter (director of Physics for Medicine Paris), "Having all these skills reunited on the same site will facilitate collaborative projects, and it seems obvious to me that our research, which is already deployed at the interface between disciplines, will benefit from these new interactions."