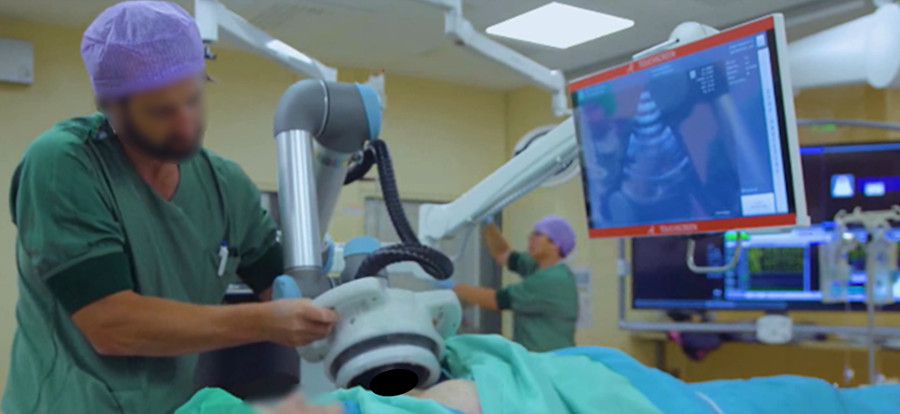 Treating aortic valve stenosis non-invasively: the first-in-man study

In November 2020, we reported the completion of the first clinical trial for non-invasive therapy of aortic stenosis using focused ultrasound. The outcomes of this study have just been published in Circulation, demonstrating not only the feasibility of this new treatment but also its promising performances.


Non-invasive ultrasound therapy (NIUT) is developed by our lab, in collaboration with the company Cardiawave and the Hôpital Européeen Georges Pompidou, as a fully non-invasive alternative to treat aortic stenosis. The treatment consists in generating ultrasonic shock waves at a controlled location to remotely soften the abnormally rigid (calcified) valve, and therefore restore a good blood flow circulation.
The first-in-man study involved ten elderly patients (five women, five men) who were ineligible to valve replacement surgery. They all had severe calcified aortic stenosis associated with comorbidities. The ultrasound treatment was delivered using an ultrasound transducer placed above the patient's thorax, and guided using conventional echocardiography. The non-invasiveness of ultrasound therapy is a tremendous advantage over valve replacement procedures, which are associated with per- and post-operative risks.
The outcomes of the treatment were evaluated via echocardiography and clinical examination. In particular, patients who received the longest treatment time exhibited an increased valve aperture and reduced mean pressure gradient, showing that they were responsive to the treatment.
This first-in-man study demonstrates the feasibility of non-invasive ultrasound therapy of the aortic valve stenosis, with a preliminary analysis of the treatment performances at one month. The evaluation will be pursued with a longer follow-up to assess the long-term outcomes. Further studies will also aim at refining the acoustic parameters of the treatment.


Full citation: Messas E, IJsselmuiden A, Goudot G, Vlieger S, Zarka S, Puymirat E, Cholley B, Spaulding C, Hagège AA, Marijon E, Tanter M, Bertrand B, Rémond MC, Penot R, Ren B, den Heijer P, Pernot M, Spaaragen R. Feasibility and Performance of Noninvasive Ultrasound Therapy in Patients With Severe Symptomatic Aortic Valve Stenosis: A First-in-Human Study. Circulation 2021; https://doi.org/10.1161/CIRCULATIONAHA.120.050672.