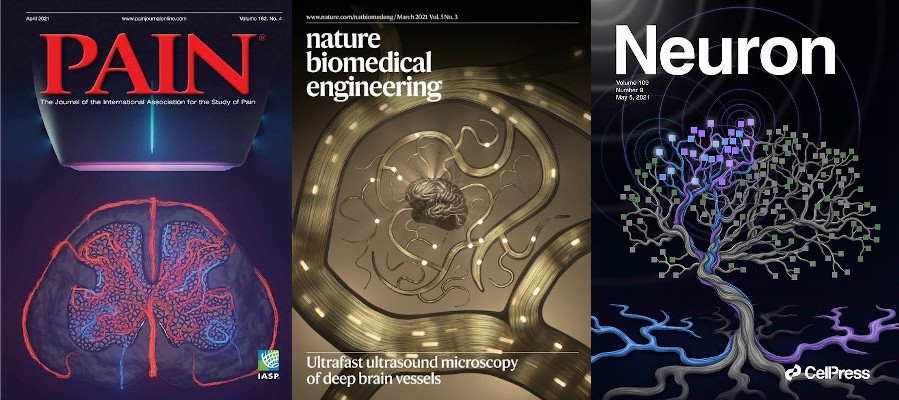 Three cover pages for ultrasound neuroimaging
Three of our recent studies using ultrasound neuroimaging were selected by journal editors to make the cover page in the past few months:
This recognition by the research community underlines the potential of functional ultrasound imaging and ultrasound super-localization microscopy to address fundamental questions in neuroscience as well as clinical needs in neurology.

References

Claron J, Hingot V, Rivals I, Rahal L, Couture O, Deffieux T, Tanter M, Pezet S. Large-scale functional ultrasound imaging of the spinal cord reveals in-depth spatiotemporal responses of spinal nociceptive circuits in both normal and inflammatory states. PAIN 2021;162:1047–59. https://doi.org/10.1097/j.pain.0000000000002078.
Demené et al., Transcranial ultrafast ultrasound localization microscopy of the adult human brain vasculature, Nature Biomedical Engineering 2021, https://www.nature.com/articles/s41551-021-00697-x
Norman SL, Maresca D, Christopoulos VN, Griggs WS, Demene C, Tanter M, Shapiro M and Andersen R. Single Trial Decoding of Movement Intentions Using Functional Ultrasound Neuroimaging. Neuron 2020. https://doi.org/10.1101/2020.05.12.086132
Image credits

Pain cover (left): artwork by Alexandre Dizeux.
Nature Biomedical Engineering cover (middle): artwork by Alexandre Dizeux, cover design by Alex Wing
Neuron cover (right): artwork by Holly Sullivan for Maayan Visuals.